Rogue Angels
Mix Queen's Nectar with other beverages to create your own Pollen Angels!
Mixing your own Pollen Angels expressions? Here are some ideas to get you started!
Expression Ideas
Denim: made with blueberry juice of your choice.
Tart'n: made with cranberry juice of your choice.
MeadMosa: made with orange juice, preferably as high-quality as possible.
Naughtea: made with iced green tea; you can try canned iced tea or the tea of your choice!
Try mixing any juice or smoothie with Queen's Nectar!
With concentrated flavours such as maple syrup or essential oils, start very small and add more if you feel like the drink needs it.
Found a great expression?
Let us know by submitting a suggestion to us at contact@pollenangels.com! All submissions become the property of us, and we will credit you with the invention if we release an official expression based on a submission!
Mixing Pollen Angels
A glass of Pollen Angels is created by mixing 1/3 cup mixer of your choice with 2/3 cup Queen's Nectar.
We recommend using our etched glasses with conveniently placed logos; pour the mixer of your choice into the glass up to the bottom of the logo, then fill to the top of the logo with Queen's Nectar and it will be perfectly mixed!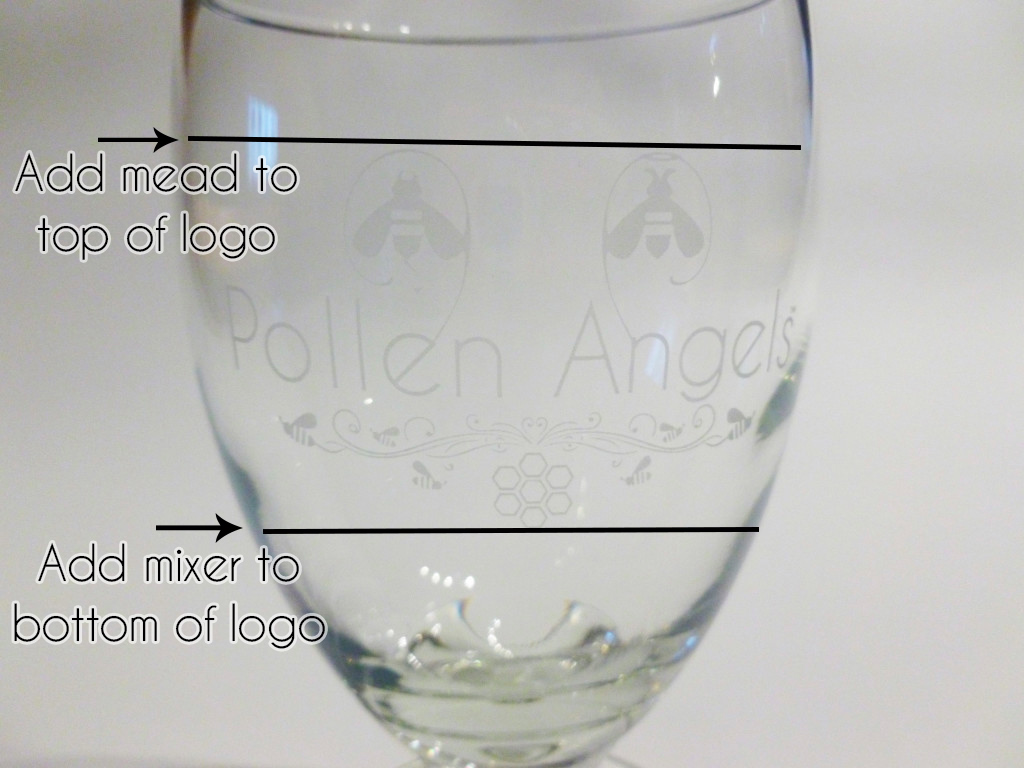 Don't have our glasses?
You can also mix Pollen Angels in a measuring cup by measuring 1/3 cup of a mixer, then topping up to the 1-cup level with Queen's Nectar, but it isn't as pretty or convenient for drinking!