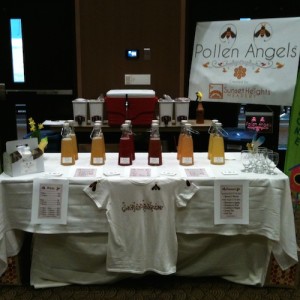 On March 8th, 2014, we showcased our Pollen Angels product line at the second annual Fredericton Craft Beer Festival. With over 100 different beers (and other treats, including our mead) and over 1,000 attendees, there was no shortage of delicious drinks for all.
With admission options for VIPs and VIP women's-only events, the FCBF has already grown drastically from its first year and we were thrilled to attend the festival for our launch, serving six different flavors of mead all night long. For many attendees, it was their first time tasting mead!
The event was hugely popular, selling out a month beforehand and bringing attendees and exhibitors from across Canada. Proceeds were donated to Team Diabetes that totalled more than $15,200 between ticket sales and a Beer for a Year draw.
CTV News even did a special segment on the festival, which you can find online here: http://atlantic.ctvnews.ca/video?clipId=303282
While at the festival, we handed out samples of six mead flavours from our Pollen Angels product line, including:
Queen's Nectar
Raspberry Kiwi
Blueberry Apple
Cranberry Maple
Green Tea
Iced Tea
According to the reactions from our audience, Queen's Nectar and Cranberry Maple were the fan favourites, although all of our flavours were handed out just as quickly with very positive responses as well.
We can safely say that our products were a hit that evening with many attendees coming back to try each and every flavour. In fact, the attendees were so eager that we were bone-dry by the end of the night. There were times when the lines were 8-people deep as our busy bee workers served their hearts out. To see such enthusiasm and excitement surrounding the Pollen Angels product line was a thrill, especially since that night was the Pollen Angels product line's premiere.
We're looking forward to our launch in restaurants and bars soon, with an official launch date to be announced as soon as possible.