Employee of the Month
Where we celebrate our diligent staff.
May 2019
This month, we want to recognize the hard work put in by one special member of our apiary team. Everyone, meet Mayzee.
Constantly on the move, it's hard to convince this consistent forager to stop and smell the flowers, as opposed to simply harvesting from them.
When not on the job, her interests include jazz clarinet, soap operas, and Jane Austen novels. Recently, Mayzee's taken an interest in botany, inspired by the first blooms of the year. Did you know that the crocus is native to southern Europe, the Middle East, and western China? We do now!
For all your hard work and useful knowledge, Mayzee, we salute you!
June 2019
It's that time again! This time we've decided to focus on one of our vitally important hive managers.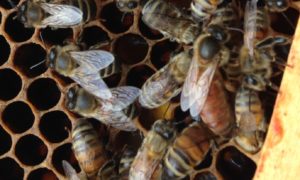 June 2019
Name: Juno
About: Juno (seen on right) is an excellent hive manager. She keeps all of the foragers, nurses, and guards hard at work and their schedules clear and well-organized. It's not easy being on top of roughly fifty thousand employees, as well as constantly hiring new staff, and we greatly admire her empowering managerial style.
Hobbies: When not on the job, this busy single mom enjoys taking in the finer things in life. She love romantic evening flights, fine food, and relaxing at the beach on a beautiful summer day.
Favourite mead to relax with: Queen's Nectar. It's got her title on it, after all.
Juno, for all you do to keep your hive running smoothly and balancing a busy work and home life, thank you.